Chockstone Photography's aim is to present to the world images created by Michael Boniwell, a local photographer based in Bendigo, Victoria, Australia...
I've always had a passion for photography, both from a technical mindset and from an undying love of the outdoors in all its beauty, adventure and sometimes challenge. Without a doubt this obsession stems from my father, an accomplished photographer, who filled my childhood with countless hikes and the best memories of my life.
For me the joy of photography is all about getting that "one great shot". Sometimes that can mean travelling long distances, hiking, snow shoeing or even roped climbing over difficult terrain, long periods of waiting for the right light, or returning to the same location again and again over many years. At other times it can mean nothing more than a chance encounter. A moment in time, where I stumble, unknowingly upon a scene that captures my breath, and causes me to rush for my camera with increasing excitement before the light or subject moves on and the sight is lost forever.
Photography is all about light. Granted it's also about having passion and patience, being in the right place at the right time, having "an eye" for a pleasing composition or an imaginative perspective, understanding your equipment, not being afraid to learn new techniques, and so on. But when it comes right down to it, the crux of thing is "light". No light, no photo after all. For me, one of the hardest, and also the most enjoyable aspects is "chasing the light", that infinite kaleidoscope that makes every image unique. Available natural light has many forms. Soft, coloured, misty, shadowed, dappled, golden, sparkling, reflective, moody, moonlight... it makes you look at the world in a different way.
Most of my work in recent years has been in the panoramic format. My large panoramic photos are crystal clear and can be printed to enormous proportions, metres wide, whilst retaining fine details even upon very close inspection. For example, Sydney Airport has one printed 9 metres wide! Customers have hung them in their homes and offices across the world. Some institutions use them to deck out entire building complexes with dozens of huge prints, whilst others just want to decorate a single feature wall.
Prints range from traditional archival papers with a mat and frame, mounted on canvas or more recently, on glass for dazzling durable displays, including kitchen splashbacks. My images have also appeared in many publications, including national and international calendars, books, corporate advertising, and a variety of magazines and websites. They've even made their way onto a few Australian stamps!
I take pride in my work and will go back to the same locations again, and again over many years before I'm satisfied the image is gallery worthy. Some of my favourite photographs are the result of decades of reshoots, before finally capturing the light at its best. Being a perfectionist, I typically spend a couple of days working on each image after it has been captured to ensure top quality at very large print sizes. My post processing tends to be traditional rather than fictional. I try to stay as true to the scene as possible and the feelings it provoked, whilst bringing out the best in it.
Rock Climbing is a sport (or recreation), that also occupied a vast quantity of my younger years, and the combination of it and photography has yielded many an intriguing challenge. If you're interested in climbing, or in Victoria and looking for new areas, take a look at my other website
www.chockstone.org
.
I hope my photos provide something of the spirit and delight I saw in each scene. If you'd like to purchase a print, you can do so entirely on-line. Simply select an image from any gallery and follow the options shown for Framed, Unframed, Canvas etc. Thank-you for your support, it is very much appreciated and allows me to continue travelling to the remote areas that I love.

May you also find peace and beauty in your own lives - Michael.
---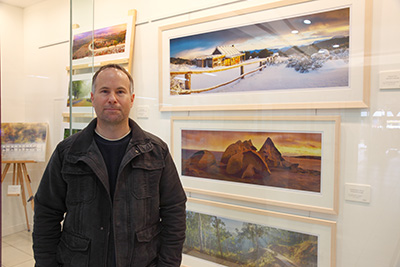 Exhibiting my Work.
Exhibition in Bendigo, Victoria.
Camped out for the dawn shot. Mt Buffalo, Victoria.
Hiking in my younger days. Frenchmans Cap, Tasmania.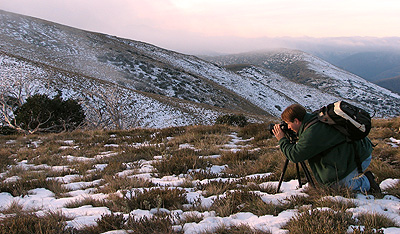 Scouting for shots, Mt Hotham.
Waiting for the light, Blue Mountains.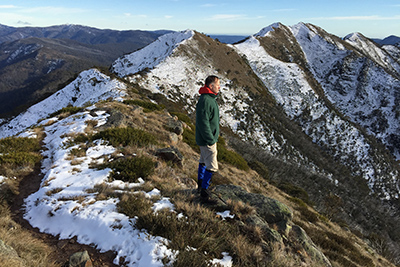 Cross Cut Saw, Mt Howitt.
Taking on some off-road tracks.
The next generation of hiker. Our boy at Kosciuszko.
---
Above: Photo Printed on Glass for Kitchen Splashback
Extra Large Prints or Prints on Glass & Other Materials
Would you like a really large print, metres wide? Or perhaps an image printed on glass for your kitchen splashback?
For prints directly onto glass, faced mounted acrylic, aluminium or any other material / size not otherwise available on this website simply
michael.boniwell@gmail.com
or Phone: 04 3473 0828 and we'll organise a printer local to you.
Under these ad hoc circumstances the photographer requires a single print license fee of $100 AUD, regardless of the product size, whilst your printer is paid separately. Discounts may be available if you're ordering in bulk.